The call for chairs is now closed.
ANITI is a research program funded from 2019 to 2023 as an "Interdisciplinary AI Institute".
Following its successful evaluation, we anticipate a continuation of ANITI in a form that we provisionally call ANITI 2.0.
This call for chair proposals, as elaborated with our academic and industrial partners, will allow interested researchers to initiate as soon as possible the construction of their proposals, which can take five (5) possible forms and will run from 2024 for a duration of 4 years.
Certain figures concerning the support of chairs, are subject to change, as indicated each time it is necessary in the text below.
The submitted proposals will run through a two-stage evaluation process: (i) a short list of projects selected by the "ANITI evaluation committee" will form the basis of a coherent program and (ii) an eventual submission to the ANR.
Objectives of the program
ANITI 2.0 is an interdisciplinary research program focused on safe and trusted AI and its scientific and technological interfaces. It extends the achievements and benefits of ANITI towards a broader community, beyond the topics and the teams currently involved in the program, with a particular emphasis for promoting young scientists (Starting Chairs), interdisciplinary and collaborative projects (Synergy and Industrial Chairs). It is based on a sharing model of its results for the benefit of all its members, academic and industrial, and society. Its strategic and scientific objectives are the following.
Strategic objectives
Conduct a research program seeking to contribute to: (i) fundamental and interdisciplinary knowledge, (ii) R&D developments (low TRL), (iii) technology transfers, social and economic developments
Amplify the momentum effect of ANITI and extend it towards a broader community and young scientists, for the benefit of Toulouse, and possibly the Occitanie region, in the fields of computational sciences and technologies and their interfaces, in particular towards AI for engineering sciences, life sciences, earth and environmental sciences, as well as towards associated technologies, industries and services
Consolidate and strengthen ANITI's assets in AI education and training and its interfaces at all levels: training through research, leadership in EFELIA national program, ANITI Graduate School, initial training, continuing education, initiation and transmission of knowledge to high and middle school students, and the general public
Intensify efforts in R&D, dissemination of results, support for the development of demonstrators and specific applications, transfer, spin-off, and social and economic added value
Set its actions on all the preceding objectives within the framework of an ethical commitment to socially responsible research; pursue efforts to disseminate knowledge, animation and promote citizen deliberation in its fields
General information
Chair proposals
Calendar
How to apply
General information
Scientific perimeter:
Chairs will benefit from an exceptional research environment linking industrial partners, academic researchers and engineers from applied research laboratories to make fundamental and high risk/high gain advances on the foundations of trustworthy AI and on ways to exploit trustworthy AI for critical applications, primarily in the domains of intelligent mobility and industry 4.0  and possibly also in climate, health and food. All proposals in this general area are welcome.
ANITI will be looking particularly for proposals that address issues such as:
Hybrid AI, frugality and guarantees for AI systems, explicability, robustness, bias, anomalies
Foundational work on theories of learning and machine learning architectures and their implications in NLP, robotics, vision, but also planning, simulations of complex scientific phenomena, and human centered AI
Chair proposals
Calendar
How to apply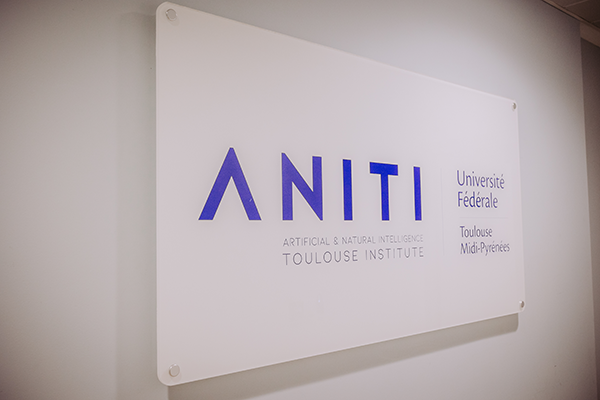 ANITI's scientific project revolves around three major research programs: Acceptable AI, Certifiable AI and Collaborative AI. Each research program brings together several chairs.