Objectifs de la chaire
Le défi intégrateur de l'IA est pleinement réalisé dans l'interaction homme-robot et plus précisément dans la collaboration homme-robot lorsque les humains et les robots décident et agissent ensemble, partagent l'espace et la tâche.
Un concept clé apparaît comme essentiel, le concept d'action conjointe. Pour mentionner certaines capacités clés, une action conjointe réussie nécessite une attention conjointe, pour manifester et maintenir une intention commune tout en affinant et en réalisant une tâche partagée en collaboration, afin de faciliter la compréhension du partenaire de l'état actuel des choses, de la
et de prédire les actions à venir.

L'enjeu scientifique est ici de concevoir et construire les capacités cognitives et interactives permettant des comportements pertinents, transparents, vérifiables et lisibles pour un robot capable d'effectuer une activité collaborative avec un partenaire humain.
Une telle architecture devrait intégrer un système d'apprentissage qui permettra au robot d'acquérir de nouvelles capacités de collaboration homme-robot tout en assurant la transparence, l'explicabilité et la vérifiabilité des capacités décisionnelles globales et de leur évolution dans le temps.
Les dialogues multimodaux devraient être utilisés comme un moyen d'informer l'humain et assurer la cohérence. Le système sera ensuite évalué dans des contextes où il est utilisé pour mener des actions conjointes et/ou affiner des capacités avec des utilisateurs non-spécialistes.
Programme : IA collaborative
Thèmes : Langage, Neurosciences et IA, Robotique et IA
Porteur : Rachid Alami, DR CNRS, Laas
Co-Chaires:
François Félix Ingrand (CNRS Senior Scientist) 
Thierry Siméon (CNRS Senior Scientist) 
Site : http://homepages.laas.fr/rachid/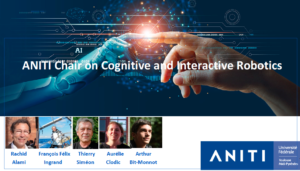 Membres de la chaire
Porteur : Rachid Alami (CNRS Senior Scientist, LAAS) – Robotics and Artificial Intelligence, Cognitive Robotics, Human-Robot Interaction, Task and Motion Planning, Multi-Robot Coordination and Cooperation, Robot Control Architectures
Co-chairs : 
François Félix Ingrand (CNRS Senior Scientist)  Cognitive Robotics, Decisional Architectures, AI Planning, Validation and Verification for Autonomous System


Thierry Siméon (CNRS Senior Scientist)  Sampling-based Planning Algorithms, Autonomous navigation, Multiple robots, Human-Aware Motion Planning, Application of Planning algorithms to bioinformatics
Chercheurs associés : 
Arthur Bit-Monot (INSA Assistant Prof.)  Planning, Temporal Reasoning, Combined Task and Motion
Doctorants : 
Yoan Sallami (2016-2021) Thesis Defence 01/2021: Perspective taking in HR collaborative context


Guilhem Buisan (2017-2021) Thesis Defence 07/2021: Planning For Both Robot and Human: Anticipating and Accompanying Human Decisions


Amandine Mayima (2017-2021)


Kathleen Belhassein (2017-2021)


Guillaume Sarthou (2018-2021)


Phani Teja Singanameni (2019-2022)


Jérome Truc (2019-2022)


Emmanuel Bazucchi (2020-2023)


Jérémi Turi (2020-2023)


Philippe Hérail(2020-2023)


Anthony Favier (2021-2024)
Post-docs : 
Hendry Ferreira Chame 2020-2021


Victor Fernadez Castro (2019-2020)
Chercheurs invités
Vicente Matellán Olivera, Universidad de León (September 2021-July 2022)


Camino Fernandez Llamas, Universidad de León (September 2021-July 2022)
Prix et distinctions
Temps forts
Publications et références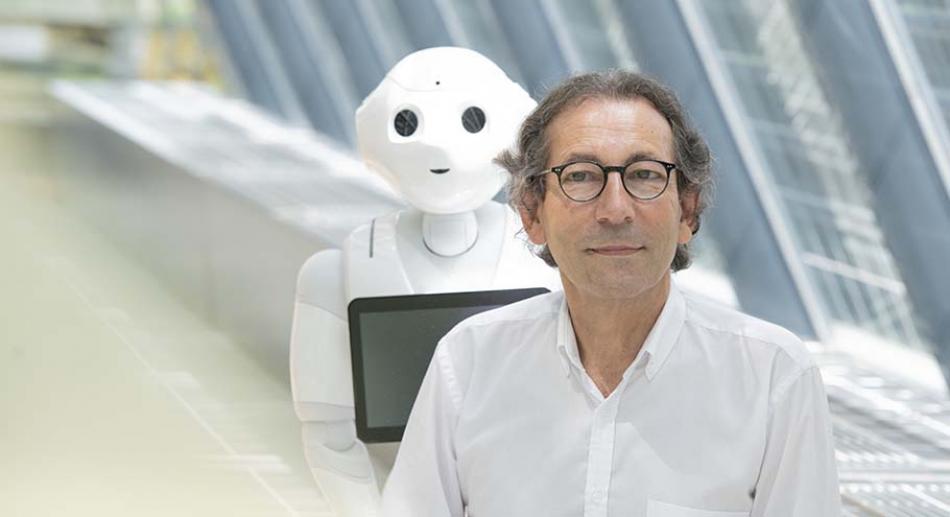 Homme et robot en tête-à-tête, avec Rachid Alami
Pionnier de la robotique cognitive, Rachid Alami a consacré sa carrière aux robots intelligents et à l'amélioration des interactions entre l'homme et la machine. Grâce aux progrès de l'intelligence artificielle, il contribue à franchir un pas supplémentaire vers la synergie entre l'homme et le robot.